Amy Katz
Grateful am I to be here, over a month in to this four month residency which began in early January. Once I entered into this valley, I felt a quite lyrical energy. Listening to 'Dulcimer Moon' by Heidi Muller may have enhanced this fairy tale-esque, mythical mood as I stopped for a moment by three sturdy deer at the base of McClure pass, before finding myself prayerfully and methodically changing gears to get my one tiny bar of gas over the mountain. (While for other travelers I advise keeping a closer to full tank,) it worked, thank G!d, and hours later was walking in to the 'gingerbread house' casita, my new home for a while, where, again, three great big deer ran and played out front and in back of the house.
Here's a picture of this little house from the art studio I am working in.
After a few days here, the four artists, along with a good turn out of maybe 20 folks from the community gathered for a 'meet and greet'. We showed slides of past work and shared plans for what we'd be up to. It was a great event. I felt really understood and loved up by the crowd who asked great questions and seemed to truly care about arts for a fulfilled soul. It was really beautiful.
We hosted an end of month show in January where again, I appreciated the quality of attention of those who came; watching folks take the time to sit with the work, stemming conversations from what was present and alive. Super great. I heard yesterday there had been up around 50 folks cycling in throughout the night.
I presented a group of found nature material/crafted collages embedded with these ceramic characters I was making that were certainly inspired by Caroline Douglas' awesome work I got to connect with several times in Boulder.
I also had up a series of 18 small paintings that I had begun to sketch out during my yoga training. They were all some variation of a Sanskrit symbol called the 'muladhara yantra' that's associated with the 'root' center. I liked having 18 as it's a sacred number in both Hindu and Hebrew languages. Here are photos of some of those: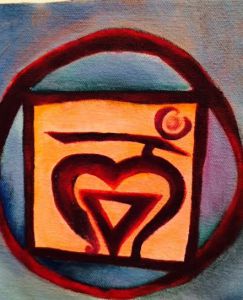 It has been largely nourishing to chop wood and sleep by wood heat in this little house. Chelsea has reminded me a few times that being warmed by the heat of a wood stove is like getting a hug. I do feel a giant embrace in my life right now in getting to live and work in this fertile place. I have also said several times that this experience has been a perfect way to get someone who thinks they don't like winter to fall madly in love with it.
Inside house. Gotta love crooked windows..
found a phoenix in the fire..
Right now I'm working on oil paintings and ceramics, gleaning images from Jewish learnings, the feminine heart, a personal mythology, and of course the deer. Starting at the last new moon, about a week ago began the joyous month of Adar in the Jewish calendar, which this year lasts two months in this 'pregnant' or leap year in the cycle. Looking forward to infusing joy into the this work over the coming months.
With warmth, joy and roots,
Amy